SOFOSBUVIR LEDIPASVIR INDIA
| | | |
| --- | --- | --- |
| QTY | PER PILL | TOTAL |
| 400 mg × 28 pills | XX.00$ | contact us |
| 400 mg × 84 pills | XX.00$ | contact us |
| 400 mg × 168 pills | XX.00$ | contact us |
| | |
| --- | --- |
| Generic Name: | SOFOSBUVIR+LEDIPASVIR |
| Indian Brand Name: | HEPCINAT-LP |
| Manufacturer: | Natco Pharma Ltd. |
| Strength: | 400/90mg |
| Packaging: | Bottle of 28 Tablets |
| Availability / Pricing: | Ready for Dispatch |
| Delivery Time: | 7 — 14 Days |
What is Hepcinat-lp?
HEPCINAT-LP is a new recently-launched blockbuster from Natco Pharma Ltd (India). Hepcinat contains polymerase inhibitor sofosbuvir+ledipasvir which approved for the treatment of patients infected with hepatitis C genotype 1 and 4. Sofosbuvir & Ledipasvir is the first FDA-approved treatment protocol for HCV infection, which does not require interferon or ribavirin. In the clinical studies have proven extremely high success rate of sofosbuvir in couple with ledipasvir. In One of the clinical trials involved more than 1,600 people with hepatitis C genotype 1. The course of treatment was only 84 days. By the end of therapy 1556 patients achieved the primary goal of therapy – absence of the virus. Adverse events that occurred in patients receiving sofosbuvir together with ledipasvir were mild and generally accompanied by headache and fatigue.
How Hepcinat-lp works
Sofosbuvir+ledipasvir targetly affects to specific proteins involved in viral replication and thus totally stop the disease.
When to use Hepcinat-Lp?
HEPCINAT-LP was established to deal with hepatitis C as a combination of oral antiviral therapy. The drug can be used successfully in liver cirrhosis and HIV co-infection. In some cases HEPCINAT-LP prescribed to those patients who have contraindications to direct reception of various interferons.
Thus drug HEPCINAT-LP is one of the most perspective drugs created to beat hepatitis C. Its efficacy and safety confirmed in six clinical studies, participated by about 2-thousand patients. The use of combination therapy sofosbuvir + ledipasvir significantly improve the patient's life quality during the treatment.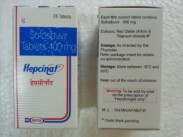 Manufactured by Natco Pharma Ltd.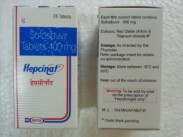 Manufactured by Natco Pharma Ltd.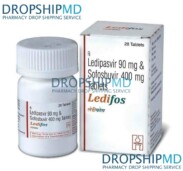 Manufactured by HETERO LABS Ltd.
error:
content thieves will be identified by abuse prevention team!