Generic Tarceva (Erlotinib)
| | |
| --- | --- |
| US Brand Name: | Tarceva |
| Generic Name: | Erlotinib HCL |
| Indian Brand Name: | Erlocip-150 |
| Manufacturer: | Cipla Ltd. |
| Strength: | 150mg |
| Packaging: | Bottle of 30 Tablets |
| Availability / Pricing: | Contact us for further information |
| Delivery Time: | 7 — 14 Days |
Dosage
The Drug is used to treat advanced (when the cancer has started to spread in the body) or metastatic (it has already spread) non-small cell lung cancer or pancreatic cancer combined with gemcitabine. Tarceva can withdraw the cancer or stop it's growth for some time. The drug can be prescribed only by your healthcare provider experienced with anticancer medicines. Also the treatments course should be taken under the Doctor's control. If you have not received chemotherapy before, your healthcare provider will ask for EGFR mutation testing prior to Tarceva therapy. Blood tests will be required regularly to determine the duration of your treatment. Your medical advisor will adjust the dose and schedule to obtain more benefit from therapy. Smoking is not allowed because it can affect the amount of the medicine in blood. Tarceva is taken once a day orally 1h before or 2h after meal. In case you forget to take a pill skip the missed dose if it is close to your next scheduled dose. Strictly follow your Doctor's instructions and do not stop taking the drug without prior consultation with the specialist. Therapy lasts until disease progression or unacceptable toxicity occur.
Precautions
Your Doctor should be aware if your have any allergies. Make sure that your healthcare provider is familiar with your medical history. Be carefull using sharps and avoid contact sports. Limit consumption of alcoholic beverages and stay away from direct sunlight. Grapefruit may react with Traceva and cause side effects. Do not use skin products that dry/irritate your skin. Tarceva is not recommended during pregnancy and breastfeeding period. Contact your medical advisor right away if you experience unexplained cough or short of breath. The side effects listed below require medical attention, but are not an emergency: vomiting, nausea, extreme fatigue, diarrhea, eye irritation, sores in your mouth, signs of dehydration. Also you should inform your Doctor if you are unable to eat/drink for 24 h. It is strongly recommended to consult your doctor before usage. Self-treatment is prohibited.
Manufactured by Natco Pharma Ltd.
Manufactured by Natco Pharma Ltd.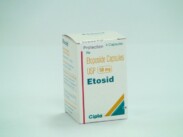 Manufactured by Cipla Ltd.
error:
content thieves will be identified by abuse prevention team!